Business
Contents

HOME > Product > Introduction of Facilities


【MAKINO MILLING MACHINE CO., LTD.】

Equipped with a pallet changer, it improved the efficiency of automatic operation at night and processing work without unattended.
Maintaining high precision mass production, contributing to performance improvement.
■MaximumWork(Work limited)
・Wide…1000mm
・Depth…550mm
・Height…400mm
■Spindle Speed Range:50〜20000min-1
V56i/V33i"Palette changer" installed! Night / unmanned,
specializing in automatic operation
Aiming for unmanned mold manufacturing, achieve reduction in man-hours and cost!
High quality, high precision, shortening product lead time became possible.
【MAKINO MILLING MACHINE CO., LTD.】

It is a machining center that can obtain absolute precision without relying on
warm-up operation and correction at machining sites of molds and high-precision parts
requiring accuracy of several micron level.
■MaximumWork (Work limited)
・Wide…650mm
・Depth…400mm
・Height…250mm
■Spindle Speed Range:300〜30000min-1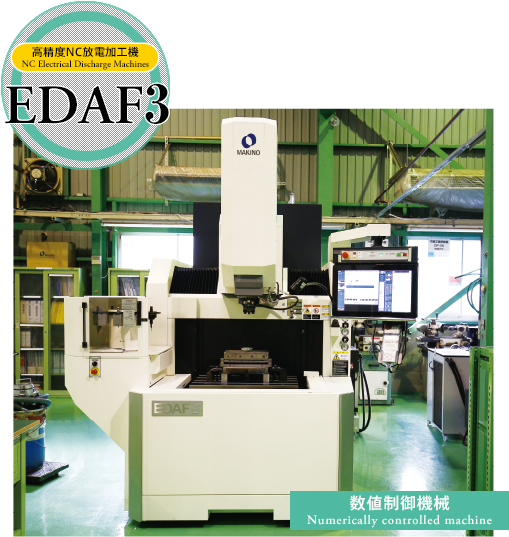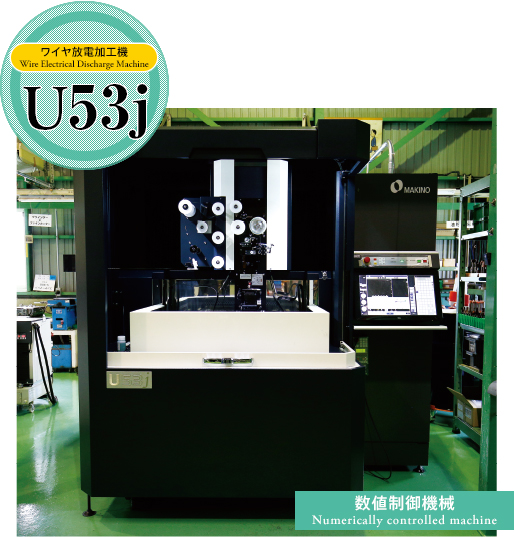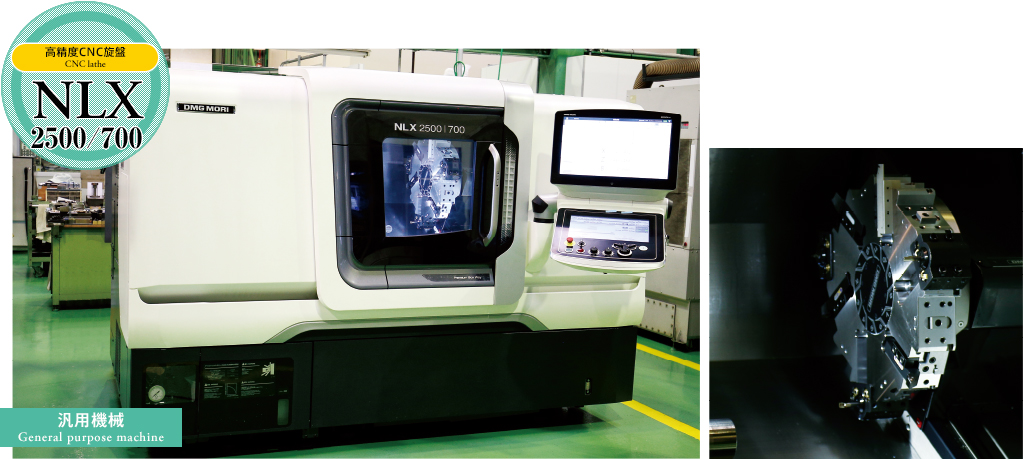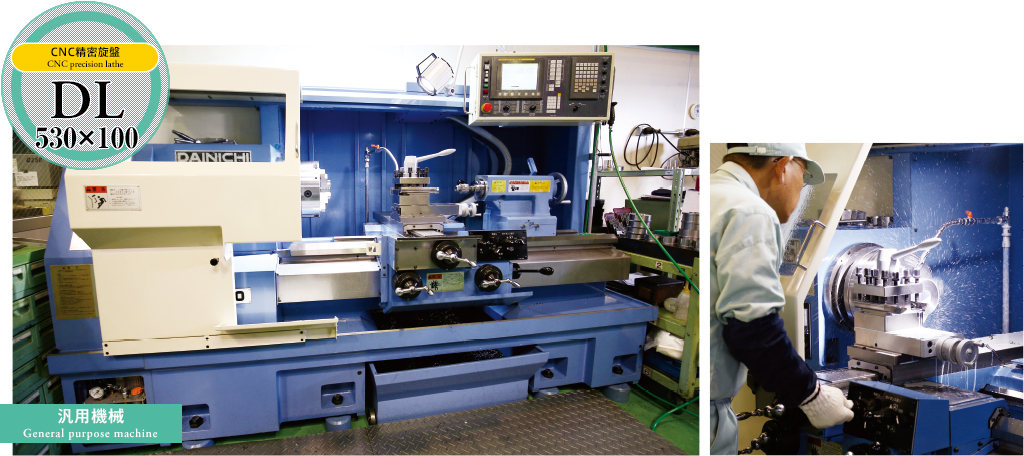 ■Business Use Computer Software
| | | | |
| --- | --- | --- | --- |
| 3DCAD | Solid Works | Solid Works Japan | |
| 2DCAD | MYPAC | Kuraki Machinery | |
| 3DCAE | 3D-TIMON(Flow analysis) | Toray Engineering | |
| 3DCAM | Master Cam | CNC Software | |
| 3DCAM | MAPLE-3AX | Yoshikawa-Maple | |
| 2DCAM | MAPLE SUPER | Yoshikawa-Maple | |
■Numerically-controlled machines
| | | | |
| --- | --- | --- | --- |
| Vertical high speed machining center | V56i(Pallet changer specification) | Makino Milling Machine | 2 unit |
| Vertical high speed machining center | V33i(Pallet changer specification) | Makino Milling Machine | 2 unit |
| Vertical machining center | VM53R | OKK | 1 unit |
| Numerically-controlled combined lathe | QT NEXUS 250MY | Yamazaki Mazak | 1 unit |
| Numerically-controlled lathe | QT20N | Yamazaki Mazak | 1 unit |
| CNC lathe | NLX 2500/700 | DMG MORI | 1 unit |
| CNC precision lathe | DL 530x100 | Dainichi Kinzoku Kogyo | 1 unit |
| Wirecut electrical discharge machine | U53J(upgrade product) | Makino Milling Machine | 1 unit |
| Wirecut electrical discharge machine | U53J | Makino Milling Machine | 1 unit |
| Die-sinking electric discharge machine | EDAF3 | Makino Milling Machine | 1 unit |
| Die-sinking electric discharge machine | EDGE3 | Makino Milling Machine | 1 unit |
■General-purpose machines
| | | | |
| --- | --- | --- | --- |
| Vertical milling machine | KVJP55 | Makino Milling Machine | 1 unit |
| Vertical milling machine | KSJP55 | Makino Milling Machine | 1 unit |
| Surface grinding machine | PSG64CA1 | Okamoto Machine Tool Works | 1 unit |
| Surface grinding machine | PSG63EXB | Okamoto Machine Tool Works | 1 unit |
| Surface grinding machine | PSG52DX | Okamoto Machine Tool Works | 1 unit |
| Radial drilling machine | YR3-115 | Yoshida Iron and Steel | 1 unit |
| Universal tool and cutter grinding machines | DP-520 | Ito Manufacturing | 1 unit |
| Universal tool and cutter grinding machines | G3-FR | Ito Manufacturing | 1 unit |
| Desk drilling machine etc... | | ASHINA etc... | 7 units |
■Molding equipment
| | | | |
| --- | --- | --- | --- |
| Horizontal injection molding machine (electric) | SE100EV-A | Sumitomo Heavy Industries | 1 unit |
| Horizontal injection molding machine (electric) | SE100DU | Sumitomo Heavy Industries | 1 unit |
| Vertical injection molding machine (electric) | ET-80Ⅱ VR2 | TOYO MACHINERY & METAL | 1 unit |
| Box shape dryer | PO-50 | Matsui Manufacturing | 1 unit |
| Dehumidifying and drying unit | DMZ2-40J-15 | Matsui Manufacturing | 1 unit |
| Mold temperature regulators | MCⅢ135/31AX | Matsui Manufacturing | 1 unit |
| Control box for hot-runners | MS-22P | Meisei Metal Industries | 2 units |
| Hot air annealing machine | ULO-15B | Koyo Heat Treatment | 1 unit |
| Thermo-hygrostat | SE-64CL-A | Kato | 1 unit |
| Crusher | DAS-28 | Daiko Seiki | 1 unit |
■Measurement/inspection equipment
| | | | |
| --- | --- | --- | --- |
| CNC 3-dimensional coordinate measuring machine | DuraMax | TOKYO SEIMITSU | 1 unit |
| CNC roundness measuring machine | 54DX-3 | TOKYO SEIMITSU | 1 unit |
| CNC image measuring machine | QV-L202Z1L-D | Mitsutoyo | 1 unit |
| CNC image measuring machine | QS200Z3R | Mitsutoyo | 1 unit |
| Image size measuring instrument | IM-7030 | KEYENCE | 1 unit |
| Tension-compression testing equipment (autograph) | AGS-J | Shimazu Manufacturing | 1 unit |
| Surface roughness measuring machine | FLEX-50A | TOKYO SEIMITSU | 1 unit |
| Eccentricity measuring machine | P-2 | Obishi Keiki Seisakusho | 1 unit |
| Precision projector | PJ311 | Mitsutoyo | 2 units |
| Tool microscope | TM311 | Mitsutoyo | 1 unit |
| Tool microscope | TMM-130E | Topcon | 1 unit |
| Electronic balance | HG-1000 | Shinkoh Appliances | 1 unit |
| Electronic balance | BW32KS | Shimazu Manufacturing | 1 unit |
| Gauge block | | Mitsutoyo | a lot |
| Various measuring equipment | | Mitsutoyo | a lot |
▲Die-sinking electric discharge machine EDAF3

▲Wirecut electrical discharge machine U53J

▲CNC lathe NLX 2500/700

▲CNC precision lathe DL530×100

▲CNC 3-dimensional coordinate measuring machine DuraMax

▲Injection molding machine(Thermoplastic and thermosetting specification)

▲CNC image measuring machine

▲Autograph